Services
North State Mechanical, Inc. is a North Carolina licensed
contractor for Plumbing and HVAC. North State Mechanical, Inc. maintains a P/H-1, H-2, H-3-Class-1 license. The following is
a list of trades and services performed by North State Mechanical, Inc. Our services include:
Mechanical

HVAC Design and Installation
Steam and Condensate Distribution
Chilled/Hot Water Piping
Dual Temperature Piping
Underground Pre-insulated Piping
Underground Water and Sewer
Simple HVAC AC Control Systems

Pumps and Air-trol Systems
Plumbing
Gas Piping
Boilers and Industrial Piping
Mechanical Insulation
Non NEBB required Testing/Balancing
Demolition

General Construction

Bridge Work
New Construction

Site Utilities
Renovation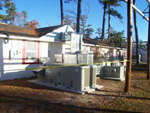 Regardless of the scope or complexity, NSMI is qualified to provide the construction services your job demands.
Please contact us for further information on how North State Mechanical can insure your project will be on time, within budget, and safely completed.